NZIFF 2019 mini-reviews (A – C)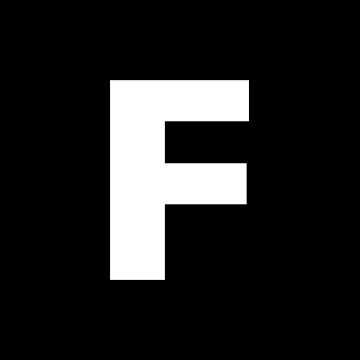 FlicksFeatures | 28 July 19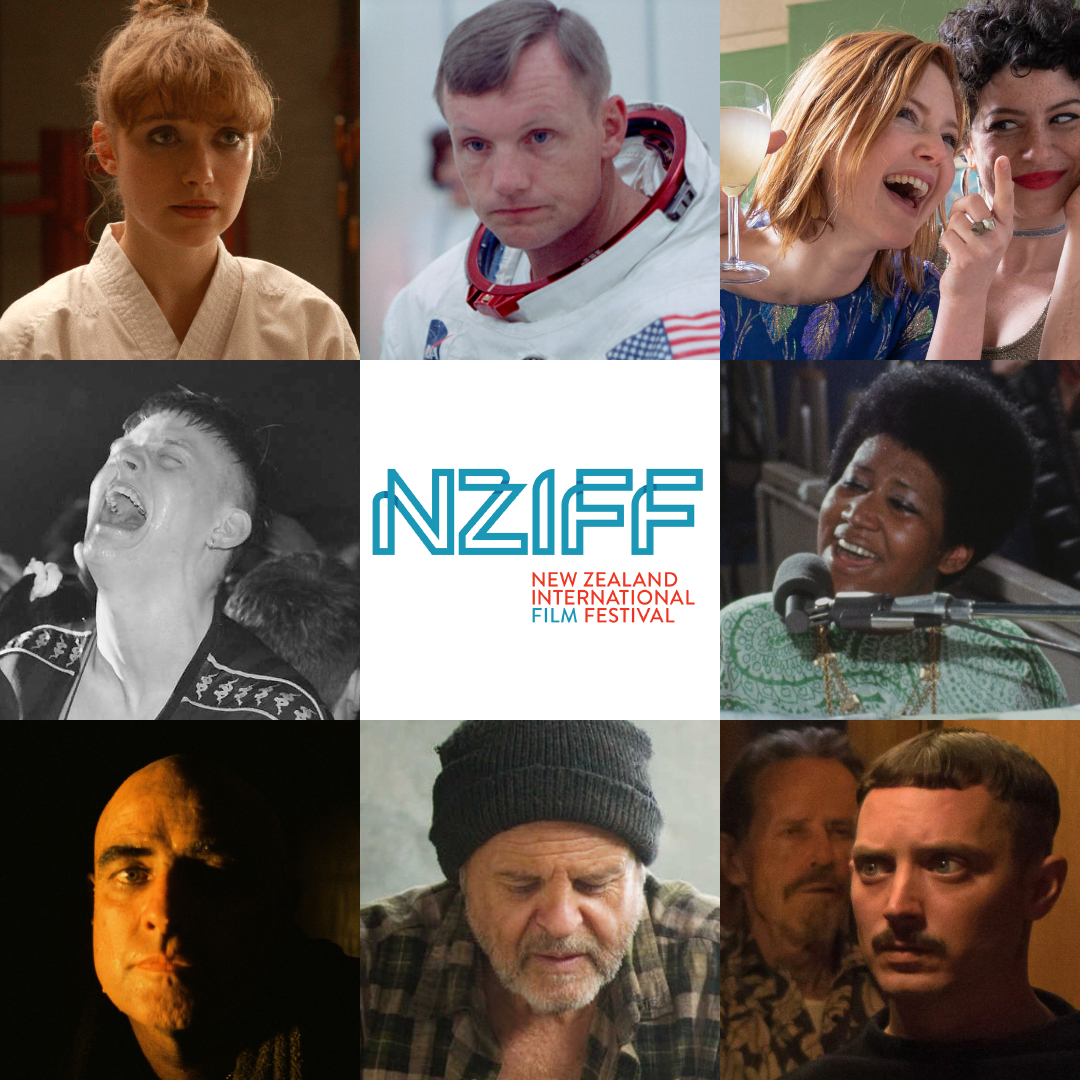 Our team of writers are submerged in NZIFF 2019—here are their thoughts on the films they've seen titled from A to C.
---
2040
An entertaining, entry-level look into climate change that, rather than panicking the audience to run for the hills, illuminates an exit sign in the form of scientifically-confirmed goals. Its visual future-gazing inspires with such immediacy, I found myself wanting to shove it straight into the Netflix sausage machine for mass distribution. -LIAM MAGUREN
You're not going to be able to offer a complex solution that saves the future of our planet in 92 minutes, and with 2040 Damon Gameau wisely does not try. He's succeeded, however, in his aim to show how things could look in 21 years' time with applications of technology and practice, examining specific scenarios to counter-act gloom and fear of what's in store as we collapse our environment. At times you may join me in fearfully thinking "but… but… but…" in response to some of the initiatives he champions—but by us thinking at all, Gameau's done well to make a positive impact with this surprisingly engaging, not-at-all lecturing, environmental doco that's a welcome optimism-generating convo-starter. -STEVE NEWALL
Adam
You'll find two incredible performances in Nisrin Erradi, playing a wondering pregnant woman, and Lubna Azabal, portraying a stern single mother who very reluctantly takes her in. That's the sombre start of what ends up being a very sweet buddy tale between two women who need support for different reasons and gift it to each other, all the while wearing their separate history in a vacant stare or a silent quiver. Superb drama. -LIAM MAGUREN
Amazing Grace
Aretha Franklin takes us all to church in gloriously restored technicolor. This is such a gem of a documentary that positively sizzles with energy. Visually it's totally gorgeous (brb just off to buy a jeweled coloured chiffon wrap) and the MUSIC (obviously). It's also very endearing to watch technicians scurrying between pews with huge cameras strapped to their backs, and see Mick Jagger boogying along at the back of the church. What a voice! What a woman! Amen to that! -RACHEL ASHBY
Foot-tapping, energy-crackling, Gospel-preaching, heart-reaching documentaries don't come more uplifting than this lovingly restored 1972 time-capsule, capturing the unbridled joy of Aretha Franklin live – choir, papa, Reverend 'n' all. Amazing? Absolutely! -ADAM FRESCO
So much power, soul, and sweat. Aretha Franklin performs like a star athlete in this moment-in-time concert film, but it's more than watching an album. The reactions from the enthralled audience, the compelled Southern California Community Choir, and engrossed Reverend James Cleveland (who deserved a director's credit, really) turn this into a Godly party that'd make an atheist throw their hands up and yell "Praise Jesus!" -LIAM MAGUREN
Amazing performance. Amazing setting. Amazing footage. Amazing Grace puts you right in the room with Aretha Franklin as she records her 1972 gospel smash of the same name over two nights at the New Temple Missionary Baptist Church, in front of small, eager audiences. At times scrappy footage (filmed guerrilla a.f.) lends this intimate immediacy that a polished production would lack—this is really something. -STEVE NEWALL
The Amazing Johnathan Documentary
Go in knowing nothing other than Benjamin Berman's documentary on dying illusionist "The Amazing Johnathan" is not a tragedy, comedy, thriller, bizarre metaphor or meta-cinematic mystery—it's all those things, and more. Highly recommended, Andy Kaufman-esque, WTF-moment-filled entertainment. –ADAM FRESCO
Starts off as a simple rise-n-fall-n-rise bio of a terminally ill comedic illusionist, satisfying the magic dork in me. But holy shit, when the story takes a handbrake turn, you're suddenly witnessing a documentary eating itself alive. Jaw-melting. Fiendishly entertaining. Could set off a word-of-mouth wildfire. -LIAM MAGUREN
American Woman
Hmmm, not quite sure where to start with this story about trashy party mom, Deb (Sienna Miller) whose daughter goes missing one night, leaving her to bring up her grandchild. Although there is plenty of strong acting from an interesting combination of cast, overall it failed to connect and draw an emotive response. Maybe that's because there was nothing we haven't seen on a thousand recent TV dramas (narrative and character-wise) and maybe because the time jumps quickly took the sting out of the difficult moments. Being visually engaging was not enough to propel it to greatness, although it is a good watch. -SARAH VOON
Andrei Rublev
Like seeing it for the first time. A towering cinematic ark, Tarkovsky's 3-hour rumination on faith, spirituality and art is an astonishing vision. Submit, and you may find your shattered soul restored. – AARON YAP
Aniara
Downbuzz space disaster pic welcomely embraces the consequences of a passenger liner being knocked off course and into limbo, as opposed to following the scramble to save it. Instead of a twenty-something day trip to resettle from a climate-ravaged Earth, the mostly civilian passengers face an uncertain future, and the film does a great job of charting the toll this takes on their ship-bound society. With immediate survival not at stake, this moody and sometimes mysterious pic is content to leave us pondering what we'd do drifting through space and potentially lost to the void for life. -STEVE NEWALL
While this lengthy Swedish sci-fi does not showcase an entirely new concept (we've f**ked our planet, let's move to Mars!) or even a new question: if we are traveling directionless with no hope of a destination then what is life? It does painstakingly depict social disintegration and pack mentality human survival in confinement with bleak, stylish depression. -SARAH VOON
Animals
A neutered version of the much-loved book of the same name (Mancunian writer Emma Jane Unsworth wrote both the screenplay and the novel, once hailed as 'Withnail for Girls'), Animals is somehow less than the sum of its parts. Featuring a stupidly watchable performance from lead Holliday Grainger, not to mention the deeper Broad City dive you always wanted from Alia Shawkat, the film still feels a little too pretty, a little too tidy and ultimately a little too thin on substance. -SARAH THOMSON
Wow these two gorgeous gal pals know how to party, it's pretty much a nonstop, hard to look away (and why would you, everyone is flush with youth, vigour and a wide variety of substances) bohemian narco-alcy nirvana. Set in Dublin, directed by Australian Sophie Hyde, Animals is cleverly observant of the type of intoxicatingly irreverent runaway train lifestyle that sucks ten years without a blink. Focussing on the funny, passionate, sometimes stifling co-dependency between two young women entering their 30s, take your best friend and a bottle of white wine—it's possible you'll want to dance on tables at a seedy bar afterwards. -SARAH VOON
Animation NOW! – Handmade
Some absolutely incredible stuff in this programme. My jaw flew open at the sight of Spanish film Muedra, a sprawling stop-motion piece unbelievably shot in the wilderness during broad daylight. On similar ground, Facing It might be the world's first film to feature live-action human beings with claymation heads—and the reason for that is superb. Then there's the stop-mo from Otago, Winter's Blight, which does Aotearoa proud with its affectionately constructed man-alone tale. Others impressed (Love Me, Fear Me, Jim Zipper, The Call) and a couple left me a bit crosseyed (Ballerina, Sun Zoom Spark) but overall, I definitely got my $12.50 worth. -LIAM MAGUREN
Apocalypse Now: Final Cut
Coppola's Heart of Darkness-inspired Vietnam war-set masterpiece stuns on the big screen. From cinematography through sound design, performances to editing, it's a mad, mind-blowing, epic. An anti-war film reveling in violence, a pacifist plea portraying napalm drops and helicopter gunships as beautiful monstrosities it remains intoxicating, disturbing, mesmerising, provocative cinema of the first degree. -ADAM FRESCO
This was my first time seeing this film in any iteration and, yep, I can see why it's a classic. The production is overwhelming: so much shit gets blown up, aircrafts are straddled everywhere, and the sets are in a class of their own. And to think it all serves an artful descent into the madness of war. Martin Sheen's incredible, easily outshining a rambling Marlon Brando whose five minutes of screen time somehow earned him first billing. -LIAM MAGUREN
Damn, this looked good on the Civic screen, this classic's laborious restoration doing wonders for image and sound quality (the choppers!). Sprucing the film up in 4K couldn't get rid of on-screen graininess in opening sequence—don't grumble, this gives way to pretty pristine image elsewhere, and the in-cinema impact of the pic remains undiminished by time. -STEVE NEWALL
Aquarela
Ultra-fancy photography of water and ice set to hyper-detailed sound design and a soundtrack of heavy metal, with no narration and next-to-no dialogue or human presence? Sign me up! The sort of film that I absolutely love yet couldn't recommend to anybody who doesn't intuitively see the appeal from that capsule description, Aquarela probably overstays its welcome for normal human beings, and I can't honestly claim Victor Kossakovsky earns his runtime. But I blissed out on the lengthy Where's Waldo-esque shots of waiting for glaciers to split, and I won't smile harder in a cinema this year than the moment when a crashing wave is met with the primal roar of grinding guitars and pummeling drums. Denied five stars only because there's not enough metal. -DOUG DILLAMAN
Apollo 11
What an absolute treat to experience this at the Civic exactly 50 years to the day Neil and Buzz set foot on the moon. A masterclass in restoring old footage and using it to show rather than tell one of the greatest stories of humankind, this will go down as one of 2019's greatest cinematic highs. -DANIEL RUTLEDGE
A triumph of archival documentary-making, from the opening footage of NASA's crawler-transporter slowly driving the rocket to its launch site this film looks INCREDIBLE. Dispensing with narration as it follows the events of the moon landing in sequence, Apollo 11 is intimate, enormous, detail-rich, and equipped for audience heart-in-mouth moments. See it. -STEVE NEWALL
Stunning on the big screen, featuring a fabulous wealth of rare footage and audio unearthed and restored to jaw-dropping splendour, it may not be the first documentary on the Apollo mission, but it succeeds in conveying the enormity and near-impossible scale of the achievement. Using split-screen, period animation and footage shot from multiple viewpoints (backed by a cool electronic score), it may annoy some for not getting into the science and tech, and spending too little time on the moon, but unless you're a flat-earther or Moon-landing denier, it's hard not to feel the awe. -ADAM FRESCO
The Art of Self-Defense
Boasting comedy from bleak to absurd to sharply observed, this examination of power, violence, group dynamics, impotent fury and wantonly toxic masculinity somehow also doubles as something of a crowdpleaser. In a focused deadpan performance Jesse Eisenberg brings to life what the willing recipient of 'be a manly man' bullshit would be like if it was all put into practice, while Alessandro Nivola slays as a sensei who embodies male grossness while never slipping as he delivers some of NZIFF 2019's most bonkers dialogue outside of In Fabric. Somehow Imogen Poots puts up with it all, and then some. -STEVE NEWALL
Bone dry and black as Sensei's obi/belt, writer/director Riley Stearns' The Art of Self Defense marries stilted delivery absurdist tragicomedy (à la Yorgos Lanthimos' The Lobster) with a narrative you'd believe could be transplanted from the nastiest corners of Reddit. Alessandro Nivola's pitch-perfect turn as the film's godhead of toxic masculinity manages to be both screamingly preposterous and chillingly real. Too real. Highly recommended. -SARAH THOMSON
More humorous than hilarious with some dry cartoonish characters that pecked at my funny bone. But when they get moody and serious, it's hard to believe they were the same low-key goofballs seen just minutes ago. Tonal armbends aside, it's a darkly entertaining wimp-beast of a film. -LIAM MAGUREN
Five ninja throwing-stars for Riley Stearns' brutally bizarro Fight Club for the 2020s. Jesse Eisenberg, Alessandro Nivola and Imogen Poots star in a kick-ass, satirical drama on toxic masculinity. Wildly inventive, full of surprises, and so violently, darkly funny I almost felt guilty for giggling throughout. Don't miss. -ADAM FRESCO
One of the blackest comedies I've ever seen, this is a disturbing and hilarious oddity. The acting direction echoes David Lynch and Wes Anderson, with dry performances that are heightened by being so flat. Not the laugh riot I was expecting, this is something much more interesting. Satirising contemporary masculinity and the American psyche, it's a memorable, highly original and often shocking film. -DANIEL RUTLEDGE
Bacurau
The story of a tiny Brazilian town under siege from a group of deeply deranged tourists, Bacurau is that rare film that could have really benefited from being just a little bit dumber. Strikingly unassuming and a little bit too restrained for its own good, the film works well as a scathing critique of political corruption in the region—but with no real main character (and therefore no centralised perspective) it left me a little bit cold. -KATIE PARKER
Beats
You'd have to be a glacier in a world untouched by global warming not to be melted by director Brian Welsh's black and white screenplay adaptation of Kieran Hurley's play about teen boyhood friendship and 90s Rave culture, which induced my second surprised tear of the Film Fest. There are also many laughs, some painful, some hearty, despite the brutality of Scottish suburbia and it's associated male posturing. A completely touching, accurate depiction of the inclusive nature of the rave scene, and the uplifting zeitgeist that accompanied it. – SARAH VOON
A beautifully sweet ode to teen friendship, Beats is one of the best films playing at the festival this year. Yes, it expresses drugged up dancefloor euphoria masterfully and presents a concise snapshot of the rebellious outlaw side of the UK's 90s rave scene. It's also often bloody hilarious. But what it says about being best mates with someone just as you both reach adulthood, but knowing deep down you're not going to be hanging out much longer, that I found really special. -DANIEL RUTLEDGE
Bellbird
Authentic, sweet and soulful with solid masterful performances, I shed my first 2019 NZIFF tear. Life, death—surviving both these things on a dairy farm in New Zealand, Bellbird brings restrained patient portrayal of our unique kiwi-ness, and the difficulty many of our men have with communicating emotion. Hope, humour and the importance of connection are the main takeaways from this little gem though—do not miss it. -SARAH VOON
Hamish Bennett's solid feature debut takes the un out of The Cinema of Unease, displaying an undeniable affection for rural Aotearoa in both the characters he's crafted and cinematography that seemingly caresses the landscape. Works better as a comedic slice of life (it's very funny) than a dramatic look at grief since the stoic father-son relationship stretches their inability to communicate for a veeeeeery long time. It certainly feels authentic to that kind of blokehood but I felt there was a lot more about Kiwi masculinity left unexplored. -LIAM MAGUREN
Billy and the Kids
The not-your-usual 42-minute runtime makes for a tight, tidy watch that effectively and affectionately shows Billy, a world-weary Kiwi boxing champion, passing the discipline and philosophy onto kids who need it. There's certainly a feature-length piece waiting to be made here, but if that version never comes, it's a blessing this short exists to remind us of the selfless humanity many Kiwis promote—but very few of us actually practice. -LIAM MAGUREN
Brittany Runs A Marathon
Millennial New York slacker Brittany (Jillian Bell) is told she's on the road to morbid obesity by the Doc she's trying to score Adderall from, a scare which sets her reluctantly on a path to losing weight and getting fit via running (her only affordable option). This debut by writer/director Paul Downs Collaizzo is a funny/painful, no-bullshit take on the frustrating conflict suffered trying to be healthy vs the pressure and expense required to achieve beauty expectations in this modern world. Perhaps a Bridget Jones for Gen Z. -SARAH VOON
By the Balls
Those casually familiar with rugby history will not be surprised that one particular ball occupies a bit of runtime in this documentary focusing on Aotearoa rugby in the mid-80s, bookended by the Cavaliers tour to South Africa and the 1987 World Cup. Buck Shelford, John Kirwan, David Kirk and Grant Fox all offer candid interviews about a time period where an insane amount of stuff happened in just the space of a few years, with the expected archival footage to accompany. As an insight into team dynamics, the sport/politics debate from the players' point of view and a return to the latter days of the amateur era, it's a bloody interesting watch, just as it is an entertaining jaunt through the matches and memories of the 80s. -STEVE NEWALL
Capital in the 21st Century
Taking just 103 mins to distil the nearly 700 pages of Thomas Piketty's best-seller of the same name, whipping through the transformation of wealth over the past few centuries into capital's current form, Capital in the 21st Century is an energetic, informative, and eminently watchable documentary. Without oversimplifying the economic issues it examines, this part-history lesson, part-prediction and advocate for a more equal future is an essential primer to understand the shaky future we face. When considered alongside a climate crisis film like 2040, the decades to come look pretty terrifying, but that's no reason to look away. -STEVE NEWALL
Carmine Street Guitars
Some documentaries use a narrow focus to expand out into the wider world, and some don't. Made exclusively for people who would voluntary spend two hours in a guitar store, Carmine Street Guitars fits the latter mold as it panders shamelessly but effectively to the narrow audience who wants to see Wilco's Nels Cline shop for a birthday present for Jeff Tweedy, hear stories about how Lou Reed tuned his guitar, and watch a bevy of talented six-stringers bash out jams and say things like "feel the weight of that neck!" or "that wood is so resonant!". For that audience, this will be a holy text; for others, it's unlikely that the incidental pleasures of watching detailed handcrafting of guitars or learning the etymology of "86'd" will be adequate recompense. (But Bill Frisell and Eleanor Friedberger are great!) -DOUG DILLAMAN
Cold Case Hammarskjöld
In the hands of Mads Brügger (who impressed with audacious doco The Ambassador at NZIFF some years back), an investigative doco into the death of UN General Secretary Dag Hammarskjöld in 1961 is an entertaining treasure hunt, a comical series of dead ends, and then a gradually dawning insanity. "Is this real?" I asked myself, graduating to "are these people fanatasists?", "is this mysterious villain some kind of militaristic L. Ron Hubbard?" A fascinating journey into conspiracy that beggars belief, quite comical until it isn't. -STEVE NEWALL
Come to Daddy
Local legend Ant Timpson's directorial debut begins by lingering long and large on lead Elijah Wood's expressive, coddled L.A. hipster Norval—his pleading, lonely eyes providing a high-stakes tonic for when (sometimes literal) shit takes a serious turn in the film's second act. The father-and-son reunion tale ramps up to true midnight movie status as Norval is forced to traverse the sins of the titular parent. Extra joy points for delicious score and foley. -SARAH THOMSON
A super satisfying grisly comedy anchored by Elijah Wood's loveable/pathetic lead and aided by Stephen McHattie's chew-on-every-minute performance. Patiently paced (but never dragging) to really emphasise its big moments, Ant Timpson's feature debut grips daddy issues and gumby violence with a tight storytelling fist, a surprisingly delicate eye, and finely polished gutter humour (I don't think I've seen a more elegant finish to a toilet gag). -LIAM MAGUREN
---
NZIFF 2019 mini-reviews index:
Related articles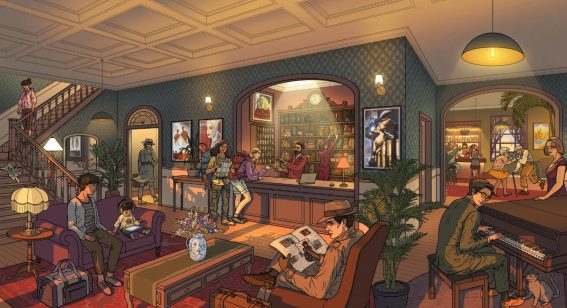 Our thoughts on all the films we're seeing at NZIFF.