NZIFF 2019 mini-reviews (latest reviews)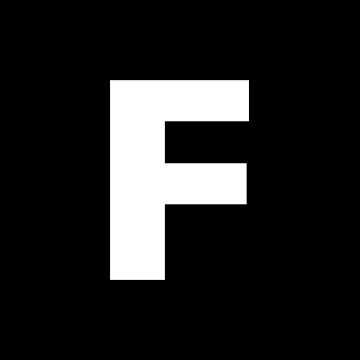 FlicksFeatures | 28 July 19
Our team of writers are submerged in the New Zealand International Film Festival 2019—here are their latest thoughts on what they've seen so far.
---
Animation NOW! – Handmade
Some absolutely incredible stuff in this programme. My jaw flew open at the sight of Spanish film Muedra, a sprawling stop-motion piece unbelievably shot in the wilderness during broad daylight. On similar ground, Facing It might be the world's first film to feature live-action human beings with claymation heads—and the reason for that is superb. Then there's the stop-mo from Otago, Winter's Blight, which does Aotearoa proud with its affectionately constructed man-alone tale. Others impressed (Love Me, Fear Me, Jim Zipper, The Call) and a couple left me a bit crosseyed (Ballerina, Sun Zoom Spark) but overall, I definitely got my $12.50 worth. -LIAM MAGUREN
Beats
You'd have to be a glacier in a world untouched by global warming not to be melted by director Brian Welsh's black and white screenplay adaptation of Kieran Hurley's play about teen boyhood friendship and 90s Rave culture, which induced my second surprised tear of the Film Fest. There are also many laughs, some painful, some hearty, despite the brutality of Scottish suburbia and it's associated male posturing. A completely touching, accurate depiction of the inclusive nature of the rave scene, and the uplifting zeitgeist that accompanied it. – SARAH VOON
Vivarium
Darkly funny and weird, this metaphorical film about the drudge, isolation and confinement of identikit suburbia and child-rearing poses the question: why do a lot of humans covet this sort of lethally safe existence? The day to day toxic cycle is explored, deplored and deployed expertly by immensely watchable couple Tom (Jesse Eisenberg) and Gemma (Imogen Poots) whose curious foray into home-owning lands them in their worst nightmare. – SARAH VOON
The Day Shall Come
This was my only true disappointment of this year's festival, from the first poorly edited scenes through the unfunny gags and occasional dialogue stinkers, which I think were trying to be ironic. It sounded like there were quite a few scattered middle-aged man laughs from the audience, but I didn't have my new glasses, so I couldn't accurately and confoundedly figure out which attendees it appealed to. Perhaps it's just too soon/hard to find humour in America's bullying authoritarianism and obsession with hunting down "terrorists" for accolades when we are constantly faced with the horrific fallout from this continuing reality. – SARAH VOON
Fans of Chris Morris's Four Lions may find that The Day Shall Come doesn't rip their guts out in the same way the earlier film did. It could be a reflection of the times, but I felt I knew what was going to happen long before it did, and consequently lost some level of emotional engagement with the characters. That being said, I still really enjoyed it. The script is witty and leans towards the absurder end of the Morris spectrum, while retaining a definite 'I'm sure I read about this on twitter' level of believability. Prescient as per usual. -RACHEL ASHBY
Martha: A Picture Story
Everyone loves an unknown legend, especially a living one, and the story of Martha Cooper—photographer and champion of New York street art—is compelling and endearing. It's really satisfying to watch someone who was fairly unknown in early career finally have her moment in the sun thanks to the internet and the publication of a couple of hard won books. However the story is more about Cooper reconnecting with the street culture communities she has inspired than it is a tale of 'undiscovered artist thrust into spotlight' (à la Finding Vivian Maier, for example). I was grinning when the credits rolled. -RACHEL ASHBY
Mystify: Michael Hutchence
Director Richard Lowenstein knew the subject of this documentary for decades (Hutchence starred in his classic Dogs in Space), which seems to have helped him to be trusted with a wealth of personal video footage and access to family and loved ones. Kylie Minogue and Helena Christensen are among those who reminisce extensively, heard but not seen as they speak over private tapes. Not too fussed about charting the history of INXS and band achievements, the film on one hand wants us to understand the troubled, magnetic, icon, but on the other, feels sanitised in what it presents about his drug use and sexual behaviour, topics that are touched on but feel very unexplored in what should be a complete picture rather than concerned about his reputation. Worth seeing for the candid footage, though. -STEVE NEWALL
Andrei Rublev
Like seeing it for the first time. A towering cinematic ark, Tarkovsky's 3-hour rumination on faith, spirituality and art is an astonishing vision. Submit, and you may find your shattered soul restored. – AARON YAP
Sibyl
Tonally shaky, sporadically enjoyable meta-whimsy with psychodrama affectations stumbles around like Assayas on an off-day. Hüller is a hoot until she isn't.-AARON YAP
Up the Mountain
Bucolic loveliness with the serene touch of Ozu. Expertly blends doco and fiction to transfixing effect. Quotidian minutiae so richly observed the glacial two-hours were almost insufficient. -AARON YAP
Midsommar
Yeah. Mind officially blown. Florence Pugh's (
Lady Macbeth
) performance is insanely masterful as Dani, a young woman dealing with a lot of shit. Her mentally troubled sister, her gormless boyfriend Christian, and Christian's college mates, who dislike her for making him less fun. Unfortunately, it doesn't get better for Dani (apart from she does get to wear The Coolest Flower Dress evah!) after they travel to Sweden for a festival on a happy clappy folk/lederhosen/quaker hybrid clothed culty commune. Under the bright nordic seemingly eternal summer sky, and the influence of herbal psychedelia, uneasy horror begins to creep. Ace costumes and production design—I'm still thinking about it. -SARAH VOON
Obnoxiously protracted, and sorely lacking any form of payoff, but Aster playing trauma anatomist in a goofier register? Yeah, I wasn't bored. -AARON YAP
Ari Aster follows the deliberate slow burn tension of Hereditary with a slow spiral into madness. Florence Pugh is utterly convincing as an already off-kilter character spinning out in a Swedish commune. Like The Wicker Man, or the more recent Apostle, creepy cults prove unsettling and darkly funny in this beautifully-shot and thoughtful meditation on mental health, paranoia and human empathy. – ADAM FRESCO
The Day Shall Come
As a huge Chris Morris fan, gotta say this was a real disappointment. The subject matter is definitely in the Morris wheelhouse, as he points out the bleak reality of US law enforcement actively encouraging terrorist tendencies, but he doesn't hit the target with his usual vigour. Moves along with low-level amusement, punctuated with the occasional big laugh, but not as incisively satirical as hoped. Film's a bit let down by the cast, especially in FBI office scenes, not really making a fist of the Chris Morris/Jesse Armstrong shit-stirring dialogue and coming off a bit Veep-lite (maybe also a consequence of Morris's time directing said show, too). -STEVE NEWALL
Knife+Heart
To be honest, a bit surprised that this over-delivered on its gay-allo premise. Much of the credit goes to Vanessa Paradis's powerful lead performance as a talented, troubled porn director who weaves the real-life murders of her cast and crew into her latest opus. Confidently holding its tone, weaving in plenty of humour and assisted by a hilariously watchable supporting performance by Nicolas Maury, working on both sides of the porn camera, some of the content may be too much for some, but comes together as more than merely a conceptually interesting tribute to retro giallo.-STEVE NEWALL
The Whistlers
Felt a bit let down by this after the introduction of its pretty cool "whistling language" concept. As the veil gets pulled back on the protagonist's backstory, what emerges feels pretty rote until culminating in maybe the worst ending of the fest, one that may literally be a Singapore tourism commercial. -STEVE NEWALL
The Day Shall Come
A madcap yet deeply serious farce about a harmless amateur jihadist who becomes embroiled in a CIA plot that veers dangerously close to entrapment, The Day Shall Come is short, sharp and wonderfully scathing in its critique of cynical US counterterrorism tactics. Genuinely funny and warm-hearted however, this otherwise fun romp is punctuated with a gut-wrenching return to reality in its final moments—and quietly makes a bigger, bolder and graver statement than most contemporary political dramas. -KATIE PARKER
Under the Silver Lake
Maybe I'm just an extreme contrarian but I loved this movie! The follow-up to director David Robert Mitchell's hit horror It Follows, Under the Silver Lake has not generally been met with a very fond reception—and admittedly a three-hour movie about horny Andrew Garfield does not exactly seem that enticing a prospect. But I thought it was funny, compelling and poignant, creating a beautiful, weird warped world that I wanted to stay in so bad I didn't even really notice how long it was. I even liked the dreaded Garfield! Don't believe the haters, Under the Silver Lake rocks! -KATIE PARKER
Sorry We Missed You
British misery porn master Ken Loach does it again, delivering another depressing snapshot of working-class life. He focuses on a family that's had some bad luck and is now victimised with zero-hour contracts and employers who dodge employment law by categorising their employees as "contractors". Although there are moments of kindness and joy sprinkled throughout, there's bugger all hope in this. It's bleak. But it's also brilliant. And it's the sort of thing that, hopefully, will compel viewers to vote for politicians that will legislate against letting this sort of injustice happen. -DANIEL RUTLEDGE
Deerskin
A pleasant tale of murder and insanity, Quentin Dupieux's latest is as original and absurd as you should expect. There are bigger ideas about self-image, materialism and feeble masculinity, but it can easily be enjoyed for its surface level alone. It has some hilarity, for sure, but this is more of a nice little chuckle fest. I guess in 2020 we'll see a movie about the jacket in this versus the dress from In Fabric. -DANIEL RUTLEDGE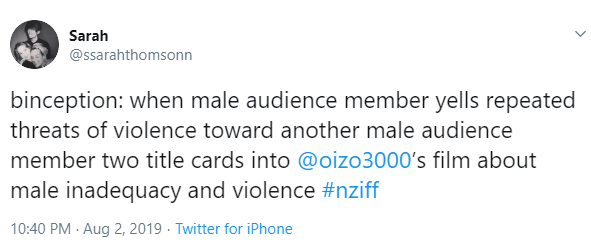 High Life
Claire Denis after watching Under the Skin: "Hold my beer." Inwardly cosmic anti-sci-fi sculpted from primordial goop by a visionary aesthetician at the peak of her free-associating powers. -AARON YAP
Portrait of a Lady on Fire
Something else. Totally emotionally immersive from the very beginning until that heartache of a final shot. I wasn't sure anyone could match Adèle Haenel but Noémie Merlant totally came through. Best of the festival, no question. Quite possibly the best of the year. Céline Sciamma forever. -AMANDA JANE ROBINSON
Impeccable craft, sublime performances. Perhaps THE best close up of any movie this year. But I'm also troubled I wasn't infatuated with this as much as I had hoped. A future rewatch likely. -AARON YAP
Amazing Grace
Aretha Franklin takes us all to church in gloriously restored technicolor. This is such a gem of a documentary that positively sizzles with energy. Visually it's totally gorgeous (brb just off to buy a jeweled coloured chiffon wrap) and the MUSIC (obviously). It's also very endearing to watch technicians scurrying between pews with huge cameras strapped to their backs, and see Mick Jagger boogying along at the back of the church. What a voice! What a woman! Amen to that! -RACHEL ASHBY
Fly by Night
This cops-n-robbers thriller with a heap of characters feels too brief and basic to compel. Undercooking its better personalities and subplots, this film's more interested in the uninteresting dumb shits that create conflict by being dumb shits. A shame really, as the filmmaking's competent and a reworked script could have led to something enjoyable. -LIAM MAGUREN
Judy and Punch
Mirrah Foulkes's first film tackles sexism through the myth behind the violent marriage of Punch (Damon Herriman), and Judy (Mia Wasikowska). The mix of magic and realism doesn't always work, and the script can be a bit heavy-handed, but the top-tier acting, cinematography and creativity throughout kept my brain entertained. -ADAM FRESCO
The Day Shall Come
Where Chris Morris's Four Lions so perfectly skewered British wannabe-extremists, this poke in America's eye takes on the FBI recruiting a Miami preacher (who talks to ducks) to infiltrate a supposed terrorist cell. Less savage, less daring, less energetic and, sadly, a lot less damn funny than Morris' brilliant earlier satires. -ADAM FRESCO
Chris Morris's long-awaited follow-up to Four Lions flips things around. Instead of following bumbling terrorists hilariously screwing up their evil deeds, we follow bumbling FBI agents stuffing up the prevention of evil deeds. But it's nowhere near as good. Maybe the current state of the world makes it harder to crack up at this sort of thing, or maybe this one just isn't as well done. There's definitely laughs to be had and a few examples of amazing dialogue, but overall this is a fairly underwhelming comedy. -DANIEL RUTLEDGE
Beats
A beautifully sweet ode to teen friendship, Beats is one of the best films playing at the festival this year. Yes, it expresses drugged up dancefloor euphoria masterfully and presents a concise snapshot of the rebellious outlaw side of the UK's 90s rave scene. It's also often bloody hilarious. But what it says about being best mates with someone just as you both reach adulthood, but knowing deep down you're not going to be hanging out much longer, that I found really special. -DANIEL RUTLEDGE
Vivarium
Cool nugget of uneasy cinema—nicely shot, effective sound design—that takes everyday monotony and warps it into something horrifying. The mystery's told in a smart way that allows the audience to reach their own 'A-ha!' moment, but once that reveal passed me, it left me feeling two steps ahead of the film, waiting for it to catch up to its inevitable conclusion. Nevertheless, an above-solid watch. -LIAM MAGUREN
High Life
This quiet, unhurried story of death row inmates sent into space for a probably-doomed black hole mission (and some fun breeding experiments on the side) will definitely not be for everyone—especially those with an aversion to bodily fluids. If you're a fan of director Claire Denis, however, or just weird, slow thoughtful ruminations on nature and nurture and death then High Life is a stunning piece of thoughtful, haunting cinema which I really loved. Bonus points for beautiful angel Robert Pattinson making me briefly think babies seem kind of nice. -KATIE PARKER
The baby and Robbo had some heartwarmingly organic scenes at the beginning, I kinda liked the grungy spaceship and lead in to the story with some spooky eerie imagery as the dead are released, however the drifty mopey pace and lack of character development started to get to me after half an hour and I found myself wishing I either had more wine, or had imbibed less wine. A boy teen in front of me giggled, gasped and snorted with unrestrained titillation at Juliette Binoche's silly Doctor Dibs antics, Andre 3000 grew some killer weed, aaaannnnd there was a LOT of sperm. -SARAH VOON
---
NZIFF 2019 mini-reviews index:
Related articles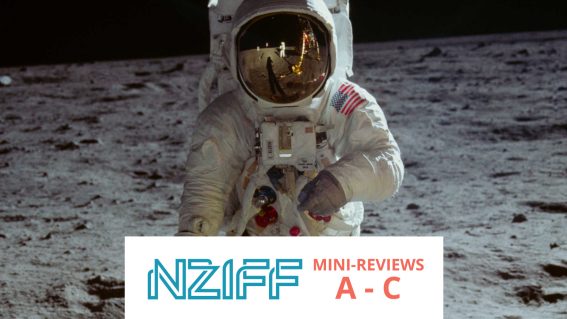 Our thoughts on all the films we're seeing at NZIFF.